Portal Test Chamber 01
From the Portal Wiki
"I can't get over how small you are!"
This article is a stub. As such, it is not complete. You can help Portal wiki by expanding it.


This Test Chamber is the second level of the game, and introduces the player to the concept of static and mobile linked portals.
Hazards
None.
Walkthrough
Jump down into the pit.
Wait for the portal to show the Weighted Storage Cube.
Walk through the portal, pick up the Cube, and return to the main area of the Chamber.
Wait for the portal to show the Heavy Duty Super-Colliding Super Button, and then take the cube through the portal and place it on the button. Return to the main area.
Wait for the portal to show the exit door. Proceed through the portal and then through the exit door into the Chamberlock.
Video walkthrough

Download demo file
Gallery
Pre-release Test Chamber 01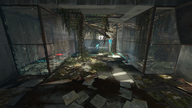 The decayed Test Chamber 01 in
Portal 2
.