Portal 2 Co-op Course 1 Chamber 2
From the Portal Wiki
"I can't get over how small you are!"
This article is a stub. As such, it is not complete. You can help Portal wiki by expanding it.


"Nope, still can't see!"


This page would benefit from the addition of one or more images.




Please add a suitable image, then remove this notice.



This is the second co-op chamber in the game, and it introduces players to the use of the Edgeless Safety Cube. Goo is present as the primary hazard.
Summary
The goal in the first area is to get through the other side of the room which is separated by goo. There is a switch to operate the door on the other side. In the other room there are 4 switches and multiple portal surfaces.
Contents
Mechanics
Hazards
Walkthrough
#
Atlas
P-body
1

Enter the chamber and go stand by the button.

Place your portal on the panels ahead and the other portal on the other side of the room. Go through the portal and stand by the blue squares on the wall.

2

Press the button.

3

Go through the opened panels. Place the same portal you just came out of to the portal surface on this side of the room.

4

Walk through the portal.

5

Go to the small room ahead and wait for the door to open.

6

Shoot a portal on the highest white panels on your side and go stand by the switch on your side. Place a portal next to you and wait until your friend is ready.

7

Use the Timer Ping and press the switch when the count is over. Then head for the second switch through your portal and press it.

8

Place the ball to the receptacle.
Video walkthrough
Gallery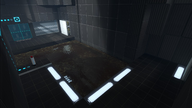 The first area of the chamber.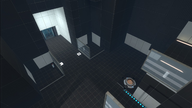 The second area of the chamber.  
Related achievements
Team Building
Complete all test chambers in the Team Building co-op course