Portal 2 Chapter 6 Beyond the Seal
From the Portal Wiki
"I can't get over how small you are!"
This article is a stub. As such, it is not complete. You can help Portal wiki by expanding it.


This is the thirty-seventh level of the game, and takes place within the dilapidated Aperture Science Enrichment Center, as well as Pump Station Alpha. This level features Goo as its main hazard, and also reveals some of the history behind Aperture Science. This level also introduces two new characters through the use of pre-recorded voice messages; Cave Johnson and Caroline.
Contents
Mechanics
Door (push-bar, gateway)
Catwalk (old)
Hazards
Characters
Locations
Objective
Go through Old Aperture and plug GLaDOS in Chell's portal gun.
Walkthrough
Go through the door and turn left. Go to the end of the catwalk and go left again.
Shoot a portal through the opening of the door and the other one to the wall before you and go through it.
Turn left and pull the Circuit Breaker on the wall. Enter through the door.
Go to the area with lights ahead.
Fire a portal on the wall before you and the other to the top-right corner. Go through the portal.
Walk a bit forward on the left. Put a portal on the angled wall below and the other one on the floor. Jump through the portal on the floor.
Go through the elevator doors on the left and go through the lobby.
Jump from the broken catwalk to the other other side.
Enter the elevator and push the button.
Wait for the elevator to stop. Then go to the left, fire a portal to the angled wall on the left-corner with three doors.
Go down the stairs to a lower floor. Shoot a portal down to the bottom and jump.
Go through the door and turn left.
Pull the lever to open the door on the right. Proceed to the catwalk and fire a portal to the left, above the catwalk higher up.
Put the other portal at the end of the catwalk and go through it. Then turn left and go through the door.
Turn right and go carefully along the pipe. Go into the elevator on the left.
Video walkthrough

Download demo file
Gallery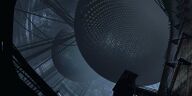 Concept art of the Science Spheres  
Related achievements
Door Prize
Examine all the vitrified test chamber doors
Music
Music of the Spheres by Aperture Science Psychoacoustics Laboratory [3:38] |

Download |

Play